Read about recently released client website's and Internet marketing project's.

Here's the top five things to do on Manitoulin Island rated on tripadvisor as of May 25, 2013. Rating and review sites are part of how people plan trips these days, and tripadvisor is known as one of the best.  If you're looking...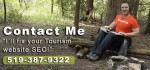 10 Common Website SEO issues in tourism based websites. Summer is here! The top money making season for all tourism based business is back for the next few months. Why are people not contacting you through your website though?  Chances are...
Subscribe for Future Posts
Skilled social media marketing companies grow their accounts as well as their clients!