Website for Bruce County Fishing Locations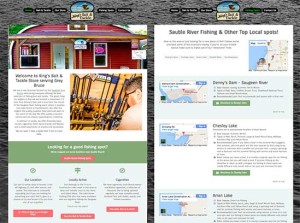 GreyBruce counties abounds with lakes and river fishing spots locally.  It's no wonder that our newest website client's newly opened Saugeen reserve fishing store has taken the lead to help anglers.
Not only does their Grey Bruce Fishing website share all about their fresh bait, tackle and fishing tools but it also has a highly useful interactive map location tool that highlights local fishing spots – making their website useful to their fishing customers using mobile phones.
Think about it; a local angler wants to go fishing, he goes to buy some bait in the morning, then heads out to a spot.  On the way, he or she thinks how it would be nice to try a new spot.  He remembers the owner Paul mentioning that his website has local fishing spots listed and can be easily accessed on his cellphone.  He goes to the website's Saugeen Fishing Spots page, clicks the button DIRECTIONS TO FISHING SPOT and instantly gets shown the quickest route to the big catch!
Thanks for reading all about King's Bait & Tackle new local fishing store website release.