Ontario Tourism Magazine for Summer Fun!
When it comes to having fun in Ontario during 2013 I always start with my favorite tourism magazine, Collingwood's 
Mountain Life Magazine.  
 This is a key to yearly memories full of exploration, adventure, and a deep connection with nature.
The magazine has a unique style of writing that will captivate readers with different core target markets in mind sharing magical things to experience across Grey Bruce counties.  Being family and friends oriented with the other a little more outdoor adventurer with each having a splash of the wow factor! With excellent articles sharing fantastic adventures you'll soon be planning where you can take others four seasons of the year. I'll warn you, it's a magical area just a few short hours from major cities like Toronto, Kitchener / Waterloo and Barrie. Here is a Google map showing Grey Bruce counties where we are in Southern Ontario and how easy a day trip can be. Make sure to grab a copy at a local tourism centre, request online or, download a PDF copy from the links below.
---
Mountain Life magazine
Website Url: Mountain Life magazine
Viewable Flipbook Mountain Life Magazine (Spring 2013)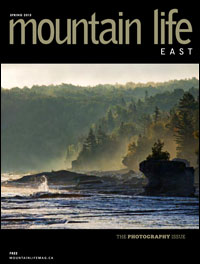 ---
I also have to close this blog post by giving recognition to another local magazine that I think is a fantastic read for parents.
Grey Bruce Kids
Website: Grey Bruce Kids magazine
PDF magazine download (Spring 2013)