Owen Sound Tree Service cutting down the Competition!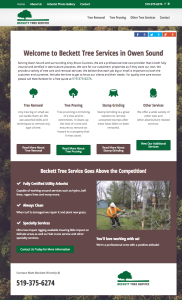 We just released an Owen Sound Tree Service website for Beckett that in our opinion is cutting down the competition across GreyBruce!  Matt's company serves all of Owen Sound and surrounding Grey Bruce as a professional tree care provider that is fully insured and certified in aboriculture practices. They provide a variety of tree care and removal services such as Owen Sound tree removal, Owen Sound stump grinding to even Owen Sound tree pruning.
We really thought that the care and attention they provide was second to none where they even with grass seed if any clients lawn was dented from falling trees.    If you're looking for local Owen Sound quality tree care consider Matt Beckett's company for a free quote at 519-375-6274.