All of our web design and Internet marketing/social media marketing services begin with a Terms of Service contract that defines the scope of our agreed service offerings that "must be signed" for our project(s) to begin.
Web Design Terms of Service
Internet Marketing/Social Marketing Terms of Service
Website Hosting Terms of Service
We then proceed to our client start process with question and answer forms for our team to understand your business, industry and marketing goals.
In most website projects, we require a 50% deposit before starting all projects and the remaining 50% at the completion of every job.  
We also offer payment plans.
Our standard hourly rates range from $90 an hour Canadian + HST depending on the type of service from web development to Internet marketing and social media tasks.
Advanced website programming and search engine optimization begin at a rate of $120 an hour. 
For monthly Internet marketing packages, we divide the total by the months performing the services to equal payments monthly over the project term.
If you are a client and require help with non-company services like Paypal, your domain Registrar, Google Apps Email, Zoho, etc to sleuth out solutions our Critical incident rates are charged on a per call basis.  Note: It's also a higher rate when you want that day priority service if we have the available team to help.  Rates begin at $125 an hour for emergency day service of troubleshooting, phone support is at $90 an hour on top of our service (min 2 hours will be billed).
Website updating service plans do not cover phone assistance for non-service offered items and will be billed at our standards hourly rate or $90 an hour.
Accepted payments are by cheque, Interac e-Transfer (send to hello@gemwebb.com) and all major credit cards through QuickBooks Cloud Online and Moneris PayD. There is an additional 3% transaction fee for credit card payments. 
American clients are billed in American funds and request money transfers using a Swift BIC code to our American bank account (a form will be provided).
Once the 50% deposit is received, we roll into a start-up meeting for the team's ideas.  We review your industry, competitors, your old website (if applicable) to see the strength and weaknesses in Google Search. 
Once we've learned about your business from the perspective of what you'd like to achieve and what services you want, we then want to dive a little bit deeper into your day to day operations and how you hope your clients will interact with your website. This will be done in the form of a questionnaire that will be set up for you on a test server. Once you've completed our questions then the clock can start on our team to get things ready for you.
For small business websites, once the questionnaire is filled out, a complete build can take from 1 week to 2 months depending on the number of pages required and the amount of additional content that will need to be created.
For larger websites with more functionality, once your questionnaire is filled out the process can take anywhere from 1 to 4 months or more depending on the amount of functionality, the amount of content that needs to be created, and the ability of the client and their team to respond timely to requests for new content.
We offer full-service website updating packages for those who don't want to learn or don't have time to update their own sites that may include: blog posts, update text, images, and even layout changes at an easy to afford retainer rate.
In addition to our full-service updates, maintenance, and security package we also offer the following service packages:
Full-Service Website Concierge (25 website update requests/1 year): $1250
| additional requests are $55/per request
Mid-Level Website Concierge (15 website update requests/1 year) $825
| additional requests are $60/per request
Website Concierge Light (6 website update requests/1 year) $360
| additional requests are $65/per request
Pay As You Go Hourly out of service packages: $70/request(hr)
Education Learning Sessions:  Every 30 minutes of a live, phone call or screen sharing session counts as 1 task.  IE: 1 Hour is 2 tasks.
What qualifies as a request?
A single submission for a change or multiple changes to the physical appearance, text or updates/changes to existing website functionality. If you have multiple changes at once (up to 10) we will count that as 1 request. New functionality will be subject to review before we can count it within web concierge as some functionality could come with significant development costs. We promise to work with you to find the best and most cost effective solution.
1: Company hourly standard rates are normally $65/hr, so the above packages reduce clients yearly service rates.

2: We do not charge to repair anything that is broken or not working, please contact us immediately if there are any issues with your website and we will work to resolve them as soon as possible.
All projects are assigned by the owner, Gem Webb, to a specific team member once a foundational understanding of the client and project scope is acquired. 
As a Search Engine Optimization (SEO) agency, we are regularly approached from similar industry clients that may know we are behind the success of their main competitor. In the case of conflicts of interest, we offer transparency to clients onboarding of other similar industry clients we currently are working for with similar target markets. We now offer "Exclusivity Contracts" if you want to have us solely marketing for your business within a renewable yearly term.
We will always contact our current industry client and offer an Exclusivity Contract prior to signing a similar industry client.  
Target market similarities could include, but not limited to.
Physical Geographic Location
Industry Function
Industry Keywords
Demographic Targets
Geographic Keywords
Please read this article we believe makes a good case for how each client can be marketed differently. https://cloud9marketing.ca/blog/agencies-deal-competing-clients/
REFER A WEBSITE LEAD
We offer a $100 commission for every website delivered to us as a lead.  Upon successful signing of a Terms of  Service contract with the client lead plus a paid initial deposit, we then will e-transfer the $100 Canadian to the affiliate email address within 30 days.
REFER A SOCIAL MEDIA MARKETING LEAD
We offer $100 commission for every signed and started quarterly social media marketing contract given to us as a lead.  Upon successful signing of an Internet & Social Media Terms of  Service contract with the client lead plus a paid initial deposit, we then will e-transfer the $100 Canadian to your email address within 30 days.
We work very hard to ensure that all of our clients are completely satisfied with our services. 
Please consider leaving us a review on Google Business, sharing your  experience of working with us 
We use WordPress. This is the most used "open-source" Content Management System used globally.
Yes, we call it "porting". We will port all of your content into a mobile-friendly, also technically known as "responsive" website frame. We will, of course, take you through our new client startup process of getting a firm understanding of your business goals so that we can advise on structuring it with target market conversions in mind.  
A port is taking the existing content of the website and adapting it into a new site. The structure will stay similar but your editing experience will change. The benefits of our service are enhanced SEO, mobile optimization services as well as re-integrating your content in an editor that is accessible via drag and drop modules so you have more control over your website's design.
If you're already hosted, we can work with you to come up with a custom updating or security package that will fit the needs of your website.
We will still do content (page/blog posts) updates to your "self-hosted" site but we will not provide regular backups and security/maintenance.  Site maintenance would have to be audited on a per project basis as we cannot guarantee other hosts have dependable security/protection.  We will take backups whenever we do work, but keeping a site secure will have to entail a backing up solution for the client if not hosted with us - one solution would be for the client to pay for a WordPress backup plugin.
Our company operates with premiere managed WordPress hosting for our client's site security and updates.
Getting found and ranked on Google is one of our top focuses with all websites brand new and old.  But the fact remains that "No one can guarantee a #1 rankings on Google nor keep you there as rankings change often."
We perform fundamental Search Engine Optimization "SEO" techniques on all client websites + submit sites to Google, link you up for Google Analytics monthly reporting and link you to Google Search Console.  This is turn has had increased keyword ranking positions for all of our clients from the moment we launch their new mobile optimized website.  This is why we begin all website contracts with a "Please share with us your keyword targets" startup form.  From there it is all about providing the best content to your target markets - that is what Google's mandate is all about.
On-site SEO helps to organize your site by the keywords your potential customers could use to find your business products and services.  We have a 60 point SEO checklist for every site that goes live offering competitive advantages in your industry! 
For more understanding, please read this article for more information on How Long Does it Take for SEO to Start Working? https://www.forbes.com/sites/joshsteimle/2015/02/07/how-long-does-seo-take-to-start-working/#e717be3464c8 
If you're really interested in learning more about SEO for a solid understanding, read this multi-part series on The Beginners Guide to SEO. 
For all e-commerce store based client websites, we implement the top global WordPress system add-on named Woocommerce.  One of the key differentiators of WooCommerce versus other eCommerce platforms is its tight integration with WordPress, meaning you get world-class commerce plus a powerful business website that has great content.  Note: for processing of customers it is the responsibility of the client to have the proper merchant systems in place for processing like PayPal Pro or other payment gateways.
Two client examples: https://meafordfactoryoutlet.com/,
https://mooredesignbirdfeeders.com.
Registrar: That's how you claim your domain name, we always register this in our clients name as to give them the freedom to add/change any services with any providers they want instead of handcuffing them to us to manage their DNS records (which allow us to point a domain or email through a named domain). We keep the documentation on file and are able to make any changes but ensure to put things under the client's name to protect them.  Note: If we have to transfer a domain from one registrar to another registrar, we will bill hourly for the extra service.  It must also be noted that this will extend the time it takes to go live and may impact email and downtime until the transfer and setup is complete.
Website Hosting: We host our websites on a custom designed wordpress server that is built for ultimate security, deployment options and website speed. This allows us to make high quality websites quicker, to keep things protected and to more easily manage our stable of client websites without any chance of compromising any of our other client websites. Because of this we are not able to keep emails on the same server. Although we do provide options and support to help ensure that you can continue to use your emails.
Email Hosting: We do not directly provide email hosting as we believe that the top players in the industry offer a higher quality service than we can for all price points. (Zoho free, Gapps, Microsoft Exchange) We can, however, provide migration services from your old mail system to a new one at an additional cost. Some clients have also decided that they do not want to change their mail service and will continue to host their emails with their previous webhost and just re-direct the required DNS records at the registrar level to the new site on our specialized hosting environment.  
We request temporary access to a client's registrar to get access to add a simple A-NAME record to point hosting to our website server. 
We DO NOT manage nor take responsibility for the renewal of domains but do sometimes log it in our CLIENT DETAILS sheets.   
We DO NOT modify DNS nameservers or email systems that are in place as we do not manage emails for clients.  We only host clients.
Yearly recurring rate: $500
Secure Managed WordPress Hosting, Website Maintenance that includes WordPress Critical Updates through year (Note: yearly updates alone normally start at $350/yr from other companies), WordPress Plugin Updates when needed like Contact Forms and SEO Yoast Plugins, One Month Full Backup of Website and, last but not least a premiere Stagging Server where you can work on your site and push it live when you are ready.
There are so many things that we do when we host our clients. To begin, we add special WordPress speed plugins to your website that help optimize images even if they're too large. This is important because Google ranks websites based on speed. We also as part of the hosting package set up clients on Google Search Consol that will report to us if Google thinks we need to fix anything or you get hacked. We also have Uptime Monitoring that if your website goes does for 15 min, we will receive an email. Additionally all year long we are optimizing our client's websites where there is a new update to anything in the website space. We spend on average 10-15 hours a year on each client site hosted. You can do the math and understand our value as we take our client's hosting very seriously. Oh, and we keep your HTTPS site up to browser standards for secure visitor browsing. We are second to none with the quality of our hosting. You can, of course, choose Godaddy hosting for cheaper, but good luck keeping your business website up to standard and protected on their shared hosting servers. There's a lot of things that can cause issues that you need to understand technology. Ask us if you have any questions as your business website is important to your bottom line year to year.
WEB DEPARTMENT YEARLY HOSTING TASKS OVERVIEW
1. WordPress (Website database "backbone") Updates - This includes security updates as well as new features as they're released to keep site secure.
2. Framework Updates - This includes the visual builder platform and our analytics and reporting integrations.
3. Plugin Updates - All advanced functionality is managed through the form of a "plugin" which keeps the code separate, so as WordPress and framework changes create new issues we must keep plugins up to date in order to ensure compatibility going forward.
4. Website Optimization - As we acquire new technology and new tools become released we implement these new technologies to ensure that our clients are always up to date and are giving search engines the strongest signals it can, staying up to date and implementing best practices is a great way to show search engines authority. For example this year we transitioned all of our clients over from a standard contact form to "gravity forms" which is a more advanced plugin that also tracks email submissions on the back end of the website for record keeping.
5. Futureproofing - As new standards emerge and roll out, we do our best to get all of our client's sites onboard with new technology and ensure that we're constantly delivering those signals of authority to the crawlers. For example, since Google Chrome has now decided that websites without encryption are now being flagged as "potentially unsafe" we have been rolling out encryption certificates (SSL) over to all client sites regardless of whether SSL was standard at the time of their website creation.
Hosting Features:
Daily Website Backups, restore to any day within the last month.
Top Level Security - Not only do we implement SSL (HTTPS) standard for every client our web host is a custom built WordPress service that is built from the top down for performance and security.
Content Delivery Network (optional) - For websites that target more than one geographic area can sometimes benefit from the implementation of a content delivery network.
Scalable - If your website grows beyond being able to handle a default amount of traffic, our platform allows us to easily transition sites up and down hosting tiers in order to accommodate the added bandwidth. There may be costs associated with upgrading but our platform does not bottleneck your website, there should be no down time if there are more resources required than allocated, we will just let you know when it's time to upgrade your hosting tiers and why.
We do not manage clients emails but we do help set you up on one of two platforms.  We believe in the digital marketing agency trend of doing what we do best and allow others to also.  We also do not back up your previous emails but do offer "how to back up your email" articles that often give clear steps on how you can do this. 
We recommend one of the top two globally adopted email services:
GMAIL APPS domain email (paid $5m/per email totaling $60 a year per email as a business expense) or, a free email service named ZOHO email.  Both have their pros and cons.  Please speak to your Gem Webb Inc. representative to make a best-fit decision for what system to go with. Both of these cloud-email systems make it easy for our clients to stay connected to their business emails on any device, where ever they are using easy to load mobile apps.
If you require assistance with your office computers to switch your email over to a new system, we have a technician that will visit your company on-site with $90/hr rate.
We also offer online education URL recommendations for support issues with all products endorsed by Gem Webb Internet Marketing & Web Design Inc. that you can reference with your team. If you do choose our hosting, we will set up your new emails requested on either of these systems with a signature.  
If you are a client and require help with services we set you up on like Google Apps Email or Zoho to sleuth out the situation solutions, our critical incident rates are charged on a per call basis. 
Note: It's a higher rate when you want that day priority service if we have the available team to help. Rates begin at $125 an hour for emergency day service of troubleshooting. Phone support is at $90 an hour on top of our service (min 2 hours will be billed).
The way our backups work is that a copy of the site gets taken every night and is stored offsite on a server that is different than where the website is hosted.
If you'd like I can add your email address to your hosting account login so that you're able to retrieve the last 30 days worth of backups at any time that you'd like.
If you're worried about page content needing to get rolled back, then we should be covered as wordpress has a built-in revision system that saves copies of your pages every time an update gets made and they're very easy to roll back and forth with.
Here's more info on how backups work with our hosting provider: https://getflywheel.com/wordpress-support/details-about-backups-on-flywheel/
Contact Web Department if you have any other questions at digital@gemwebb.com
INTERNET & SOCIAL MEDIA MARKETING FAQS
We design all our projects using a proprietary internal method that understands your business goals and comes up with a plan of attack.
Based on your budget and your business needs we pride ourselves on being able to create a custom solution that is based on your business goals.
Our standard social media campaigns begin contractually at 3 to 6 months.  We regularly review it in order to expand or modify the marketing plan to stay in line with your current business goals. Depending on the deliverables, budget, and your availability, we can expand or compact the offerings to be reviewed more or less often.
It is understood that it requires a minimum of 2 weeks startup to get the posts and content created and organized for all social media marketing projects.

We don't expect our clients to be internet marketing experts - that's our job. What we do expect is that you understand your business, how it works, and what your goals are.
We've developed a system to work with you to understand your business needs. We then take that information to our internal creative team to brainstorm a plan of approach that we believe will maximize your business exposure given your current priorities and budget. Then we present our plan of attack to you for your ideas and approval and then we move into the content gathering, design and execution of the projects.
The reason for this is because we find success is best gauged against business goals. Every business is different so we believe every solution should be different too.
We currently set up and manage these social networks.  
Facebook
Instagram
Linkedin
Twitter
We currently set up and manage these paid networks (pay-per-click).
Google Ads  (3 packages available) 
Facebook Ads
Linkedin Ads are in consideration for 2019 marketing
-Updated January 2019-
As a Search Engine Optimization (SEO) agency, we are regularly approached from similar industry clients that may know we are behind the success of their main competitor. We now offer "Exclusivity Contracts" if you want to have us solely marketing for your business within a renewable yearly term.  NOTE: lastly, if we do take clients in the same or similar industry we make sure to assign different account managers to keep all production focused on the goals of each client separately.
We will always contact our current industry client and offer an Exclusivity Contract prior to signing a similar industry client.  
Target market similarities could include, but not limited to.
Physical Geographic Location
Industry Function
Industry Keywords
Demographic Targets
Geographic Keywords
Please read this article we believe makes a good case for how each client can be marketed differently. https://cloud9marketing.ca/blog/agencies-deal-competing-clients/
When you are finished with our social media marketing service we provide all client details on file and some various items from your files over the term of services we have provided you.
Various account closing activity expectations:
Providing all client questionnaires that have been filled out on file.
Providing all client website and social media access urls, usernames and passwords on file.  This is very valuable to your business organization.
Providing all service package elements of the creation of graphics such as logos and branding elements.
Delinking your Google Business listing and remove GEM WEBB INC. from the control and viewing of your Google Business profile as a user and make you the owner. 
Delinking access and control to your business Facebook pages and ad accounts of GEM WEBB INC. 
Delinking from your Google Analytics and Google Search Consol website reporting of GEM WEBB INC. 
Delinking client's Google Ads account from Gem Webb Inc. Google Ads management. 
Paid for photography and images by the client.  
Digital files may be given through a cloud Google Drive link to a Zip file or multiple files within a folder for download availability of 2 weeks.
Items not to expect to receive:
Methods, outlines, strategies, and plans created by Gem Webb Inc. during marketing service activities.  They are all the copyright and patent of our systems and processes.
Images and graphics created for social media management that have not been paid for within a service plan and contract.  Note: Images sourced by Gem Webb and used to market clients are all on their social media network pages and can be sourced by the client as it is in their business profile possession. 
GRAPHIC DESIGN & BRANDING PACKAGES
GOOGLE ADS & FACEBOOK ADS (PPC)
Our base Ad campaign process overview.
Research and Understand Target Audiences
(Create personas)
Outline Specific Goals for Each Campaign
(Clicks to website landing pages, calls, emails, etc)
Create Targeted Landing Page or use existing website pages for Your Ads based on Personas
(Increase conversion is a focus of this step with analyzing current website page and considering customer landing pages for increased campaign goals). Oh, and it's a fact that more relevant custom focused landing pages convert higher and get improved Quality Scores with Google Ads that in turn cost less per click in comparison to less focused landing pages.
Create Lots of Versions of the Ad Copy
Verify Positive ROI based on campaign goals
Review Campaigns weekly, bi-weekly, monthly and quarterly for Ad insights to improve ongoing campaign goals.
Update the current campaign with client involvement and signoff.  
(Reports given in email and PDF format)
If you want to learn more about what to expect from our Google Ads setup and management, please read over our Google Services page.
"PRECISE GEOGRAPHIC TARGETING POWER."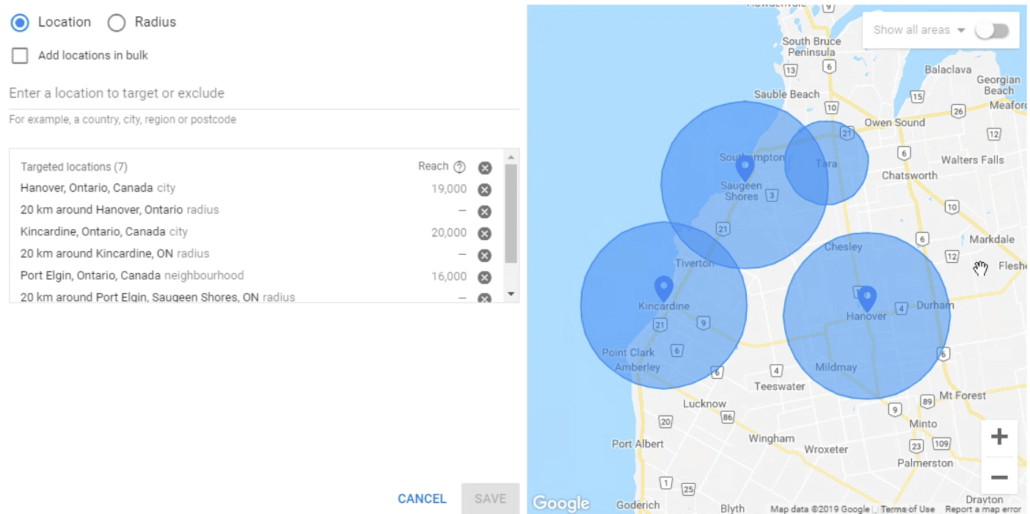 Outline coming in 2019 VS only in contract. 

GRAPHIC DESIGN & BRANDING PACKAGES
All of our website development and Internet marketing & Social media marketing services begin with a terms of service that covers all services to be rendered that must be signed to begin all projects.
When our internal team does not have the professional position to complete a specific requested service, due to our company at a capacity or not having that position currently, we do our best to recommend a company or subcontractor.  We do not take responsibility for any recommended external company or subcontractor that we recommend as everyone runs their own business and must take responsibility for their professional reputation. We urge clients to do their own due diligence and request from the external parties to have proper business insurance in place to protect all parties involved. We also recommend always signing a Terms of Service or Letter of Intent with the external company or subcontractor.  If the recommended external company or subcontractor fails or under delivers the expected service, we will always work with our common client to help find another source to complete the task to the client's expectations.  We have law firms that act on our behalf in situations that cannot be resolved professionally and amicably.  If you require assistance please contact your Gem Webb Inc. point of contact.