Client Website and Internet Marketing Testimonials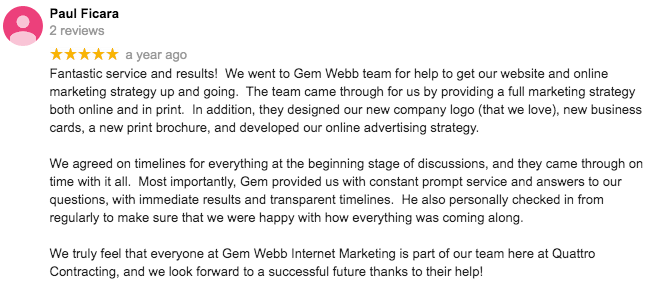 5★on Google, October 29, 2019
5★on Google, November 27, 2018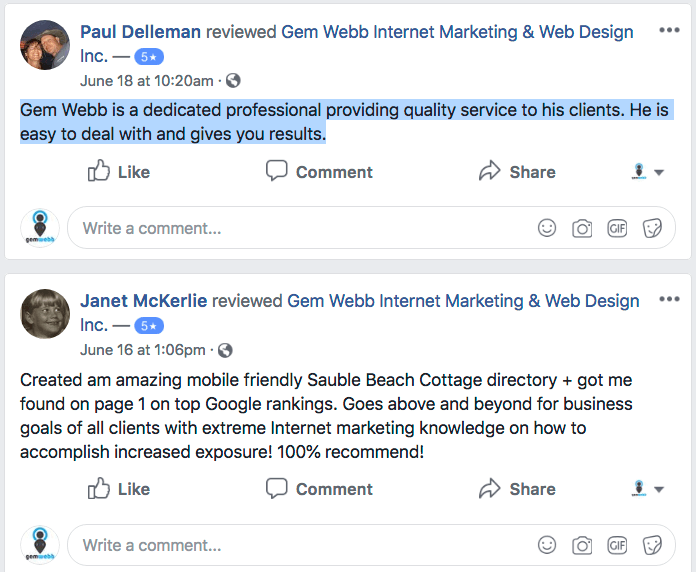 5★on Google, May 1st, 2018
Erica Moore | Moore Design Birdfeeders
Gem and his team created the exact new custom designed and hand-built brass and glass bird feeders website that I had in mind...I could not be happier with the results! I look forward to our continued business relationship as we carry on with social media marketing!
---
5★on Google, Jan 30, 2018
John Benton | Bent On Futurology
We are grateful to, and wish to congratulate, the team of Gem Webb Internet Marketing & Web Design Inc. for its professionalism and expertise in preparing our educational website, Bent On Futurology, for a successful launch. In our view, the team's effective integration of sophisticated, cutting-edge components in website technology with which to generate a compelling and attractive product makes them the premier web design company in the Owen Sound / Grey Bruce region. It is a view that is bound to be shared by those who follow our website. The President, Gem Webb, has been thoroughly detailed and generous in sharing his knowledge throughout the process. Along the way, Mr. Webb often exceeded expectations for giving of his time and creative talents to facilitate maximum results. In addition, we have been impressed by his strategic emphasis on social media as a marketing tool, as well as creating a comprehensive framework for search engine optimization to maximize our Google ranking. Finally, the team has made our website readily available on the mobile platform, a key priority for an evolving educational institution such as ours seeking to engage an emerging Millennial demographic.
John Benton & Terrance Quinn
---
5★on Google, Dec 19, 2017
Bob Nadon "President" | Upper Canada Stretchers Inc.
I've used four different companies for website and SEO work over the past 10 years and finally, I can say that I have found the right one! Gem Webb Internet Marketing has made a big difference to our online visibility across Canada, the USA and abroad. Gem pulled together a very capable team to deliver all the services we needed to get our new website up and running. I was impressed by the SEO knowledge they applied to our website and the skill they had in organizing a very effective social media marketing strategy. This work moved our site very quickly to the top ranking pages of Google which immediately translated into increased sales. I am constantly recommending the website and internet marketing services to my colleagues. If you are looking for a professional service that will deliver results I suggest you contact Gem Webb Internet Marketing!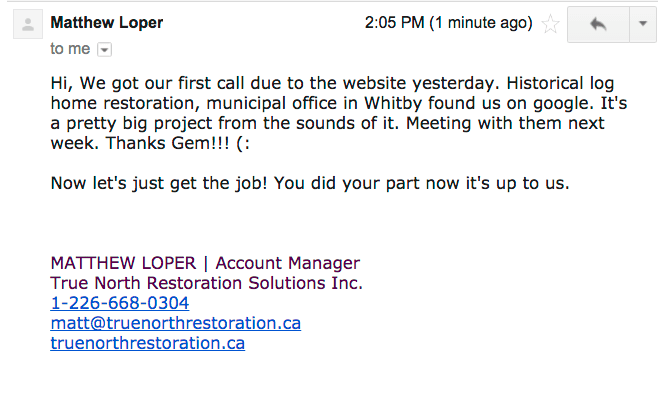 ---
The Owen Sound Bowling Alley has worked with Gem Webb Internet Marketing & Web Design Inc. From the beginning of September 2016. We have noticed a tremendous increase in sales, customer feedback, social media presence since using their services. With monthly in-person meetings, and over the phone conversations we have been able to communicate our brand effectively with gem web services. I strongly recommend any company to use their services if they are struggling with an online presence both for a website and social media. You will be noticed when you use Gem Webb and his content marketing team.

---
Amazing customer service, always had an immediate response! Gem Webb designed a flawless website that is not only professional but is completely compatible with mobile browsers. Gem personally walked us through every step of the way with our process of search engine optimization. We now have a way to track and monitor our traffic by the use of Google Analytics, something we had no idea existed until Gem introduced us. Our new site has received a massive increase in page views and traffic. He even came to our site and did a photo shoot of our park that really made our website have the wow factor. WEB MARKETING GENIUS!

---
5★on Google, Oct 31, 2016
Chris Bearfoot | Bear Foot Park "Sauble Beach Cottages"
We have been working with Gem Webb Internet Marketing and Web Design since June 2016 for the first time. From our very first meeting Mr. Webb understood our needs to help further market our brand. He is the ultimate professional in his field, readily available by either phone or email. His great ideas have launched us significantly in the GOOGLE RANKINGS. We can't believe the business we have obtained so far this fall and our season usually doesn't even begin until the after the New Year. We are definitely looking forward to working with Gem Webb again to further market our niche in the cottage rental world. We give Gem Webb Internet Marketing and Web Design a 10+.
Business Response:
Chris, your testimonial touched my heart a long with my teams. We place a huge importance on making sure our work has a return on investment for all our clients. The proof is in the statistics, Google rankings, phone calls, emails and more. We're glad you understood the value of our custom package and that you moved ahead at the right time so Google could rank you higher for the tourism's shoulder season. We understand the local GreyBruce area very well and will continue to assist your cottage rental company and all others that are looking for increased business customer exposure!
---
Our business, ReNEWED Computers, hired Gem to design our web page and to assist with marketing among a long list of other things. Gem is very personable, professional and aggressive in boosting profits for the Company's who hire him. We are very happy with his services, Gem is an A++ Internet Marketer and Web Designer! We HIGHLY recommend giving him a call.
Business Response:
Kyle, Thanks for your compliments sharing how my team communicates professionally with our clients + how we're always business goal focused. Technology can be intimidating, that's a fact. That's why my company has a value add proposition offering education to all clients. We also make sure there is a reason for everything we do for each client. This is why we have different solutions for each client - it's not always a website that you may need. By digging into how each of our client see's their industry and customer issues, we can then tailor a custom Internet marketing solution for their company. Thanks for entrusting your Owen Sound computer store's brand and customer reach to us. Your Google rankings of page 1, spot 1 for your top 10 keywords make us feel like that we've accomplished our job!
---

I can not say enough praise for Gem ,our ranks in the various web search are in the top 1-3 at all times. Gem designed a very professional web page which brought us out of the dark ages. W
ould highly recommend them.
Business Response:
Ron, Thanks so much. You're a super skilled mason that keeps the old ways of building to stand the test of time for all your local projects. I look forward to reading more about your jobs with photos as you update your website regularly. It's so inspiring to my company when clients are passionate and understand the vale of content creating VS static stagnant websites. Google likes building quality search links offering relevant content #1 this can greatly improve search rankings!
---
I was looking for a new website to feature our Bed & Breakfast that was professional and one that I could update. That is exactly what I got! Gem listened to what I wanted and then proposed what he could do. To make sure I got the content that I needed he had a great system to capture all the text and graphics that I entered and that is exactly what they used. He has a great team helping with design and he is an internet marketing wizard. If you are looking for a "leg up" with your internet presence this the company to call.
March 7, 2017 update from client:  Gem, Our customer booking rate this year, so far, is 150% ahead of last year for a combination of reasons, starting with the new website.  It has been a bit of a surprise to have more guests at this time of year which is our slow time. That was the purpose of the website so it has worked.
Thanks again for the website work,
Gord
★

on Google,

Jun 21, 2016
Julie Underwood  | GreyBruce Excavating & Bulldozing

Great experience working with Gem. Love having the support I need to not only build my website, but help me manage it for getting better rankings on Google.
---
★

on Google,

Jun 16, 2016
Gary Musler
Recently I had the pleasure of collaborating with Gem and I must admit I was blown away by his knowledge and experience. Gem's intelligence and integrity combined with his Mad Skills wrapped up in an affable personality is the reasons why I respect and recommend him to anyone serious about their business.
Business Response:
Gary, you made me blush with this one! Thanks so much. You're Adsense skills are the best I've ever seen with a offer PPC package that'll increase any businesses exposure locally or globally! It's a pleasure to know you and I look forward to doing business one day!
---
I hired Gem Webb Internet Marketing and Web Design to do a fast speedy website with a short deadline. He and his team of professionals, were able to build the site in the a lotted time without complaints. I highly recommend using Gem and his team for ensuring you have a solid Internet Presence.
Business Response:
Thanks so much John for this outstanding review on our website job with a short timeline. We have a standard of excellence with all projects big and small. My team is looking forward to seeing your Google rankings dominate your Ontario competitors! Be well and thanks again for your business.
---
★
on Google,
May 25, 2016
Lori Ross
Thank-you Gem for your commitment to a quality mobile friendly website and relevance, your aesthetic sensibility, super fast execution, tactic search engine knowledge and on-going personal support.
Business Response:
Thanks Lori, I really enjoy helping local Grey Bruce businesses to expand their reach to their customers online. Thanks so much for professional testimonial sharing my adept abilities with web development.
---
★

on Google,

Nov 01, 2015
Nancy Cato
Gem Webb Internet Marketing has been the best decision I ever made since I started my Online Directory Business, he is always friendly and helpful anytime of the day with any web design and Internet m
arketing. When my customers need service, I get immediate technical support I need to make my customers come back again and again!  He has created a mobile friendly website that makes it easy for my customers consumers to contact their businesses on the site and on Google. Gem Webb offers me expert outcomes with Search Engine Optimization SEO as he PROVES HIS WORTH WITH GOOGLE RANKINGS!  On top of all that, I don't have to wait days and days or even weeks for website updates and I get the hands on tech support I need to grow my business!
Business Response:
Thanks so much Nancy. It's a pleasure to assist another Ontario directory as my experience with Bruce County Tourism's ExploretheBruce website and many social media networks was such a fun experience. I now look at all directory websites through a lens of what works and what didn't from 2009 to present. 2009 btw was the beginning of the importance of social media. Since we went live with a handful of changes we've seen 200 to 40% increases in your websites traffic. I know that if you stay the course and continue to use the Internet marketing tactics I've given you, that your website will be highly visible to your targets markets in 2016. Buckle up Nancy, it's business success time!
---
★

on Google,

Oct 02, 2015
Julie Underwood
Informed, and willing to take the extra steps to ensure the customer gets the desired outcome. Thanks Gem! We enjoy working with you!
Business Response:
Thanks so much Julie. It was a pleasure to help reduce your cost savings by migrating from Yellow Pages to our website package and hosting package. You now have a full mobile friendly website that is keyword Search Engine Optimized towards your local target market both by service type and by area of interest. I look forward to helping you with your Internet marketing campaigns in 2016.
---
★

on Google,

Jun 02, 2015
Jason Rich
I have been working with Gem for about two months and have had nothing but top notch service. Regardless the deadline, reasonable or code red, Gem is always there to help you through any situation.

---
★

on Google,

Jun 02, 2015
Cory King
Very pleased with the attention to detail and helpful suggestions. I had an issue with doing some updates, I panicked and called Gem - he and his team had the page back on line in a very short time. Instructional videos are very helpful and can be shared with new staff. Very helpful with suggestions, very professional | would highly recommend Gem Webb Services.
Business Response:
Thanks so much for the kind words of my teams efforts. We have a motto of under promise and over deliver with all aspects of our client projects / services. Your Sauble Beach restaurant website is a wonderful addition to our portfolio. We look forward to sharing success measurements with analytic reports over the next two years that will reveal increased business exposure.
---
★

on Google,

Jun 02, 2015
Corey Ruth
Gem made videos for two of our clients' products and I couldn't be happier. They were visually very well done with great lighting and creative use of camera angles to really show off the project!
Business Response:
Thanks so much Corey for your kind words around the quality of my Youtube video creation. I feel honoured that your Toronto PR marketing agency choose me to create video reviews for your clients mobile device peripherals and technology. I have to say that I really love testing products live and am really looking forward to new gadgets in 2015. Video reviews are such fun as people should be able to see what a product is like prior to buying.