Send Social Media Smoke Signals to Google
What are Social Media Signals, is it important and, how do you use Search Engine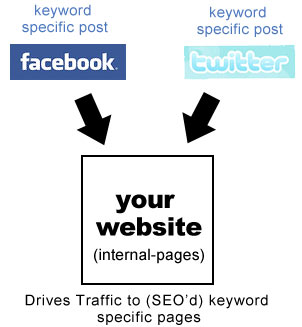 Optimization to give you more exposure online?  First, I like to check with Matt Cutts, Google search engine spokesperson, and what he has to say about things.  Matt confirms Google is using it!  He sometimes is vague yet tends to give great little morsels of food for thought that Google "could be" using to rank your website.  Basically, Social Media Signals are influential signs to help your regular Search Engine Ranking Page (SERP) results of your website by Google, bing and, Yahoo.  And when it comes to Search Engine Optimization "SEO" which at its most basic form is the task of using specific keywords on your website pages to get ranked properly by search engines.  So when you mix SEO together with Social Signals, it could look like this Social Signal diagram below.
To start getting used to this, I like to think like an inbound link building marketer:
"You should link and drive traffic to pages using your tweets and facebook posts that are relevant to what your linking to (talking about).  It only makes sense…"
The more often you do this, the more you become an authority on the subject matter and more active traffic possibly gets sent to by Google along with ranking your website higher in the SERP's.   Matt Cutts recommended this article on Social Media Signals by Danny Sullivan that covers the topic more in depth.  http://searchengineland.com/what-social-signals-do-google-bing-really-count-5…
Note:  You will of course need to have your privacy account settings very open so that you can get ranked for the content your sharing, talking about.  So, it's a double edged sword. If you don't want to be that open with your content, my suggestion is to use your main personal profiles for real friends and family, and start other "business pages" for your online totally open content sharing.   I hope you enjoyed this basic overview of what Social Media Signal Search Engine Optimization is and how you can start using it for your online marketing.  If you have any questions connect with me on my Social Media Marketing Teacher fanpage or, leave a comment below.