Website Facelift for Video Training Camps, Parks & Recreational Programs
Expert Online Training is an awesome company that provides standardized video training and testing for many different Camp and Recreational Leadership programs globally. What makes them special from other, more generic online course providers is their high quality of video and leadership but also their ability to tailor their curriculum to focus on the requirements for organizations.
To date over 6,000 camps, parks & recreational programs, and summer schools globally have used Expert Online Training to equip their staff with practical leadership skills.
Expert Online Training came to us requesting us to help modernize the design of their site while ensuring that we didn't interfere with the development and release of a new version of their live product. We worked closely with them to work from our initial design prototypes all the way through launch.   They now have a responsive / mobile friendly website that is easy to navigate for their website visitors to get exactly what they need.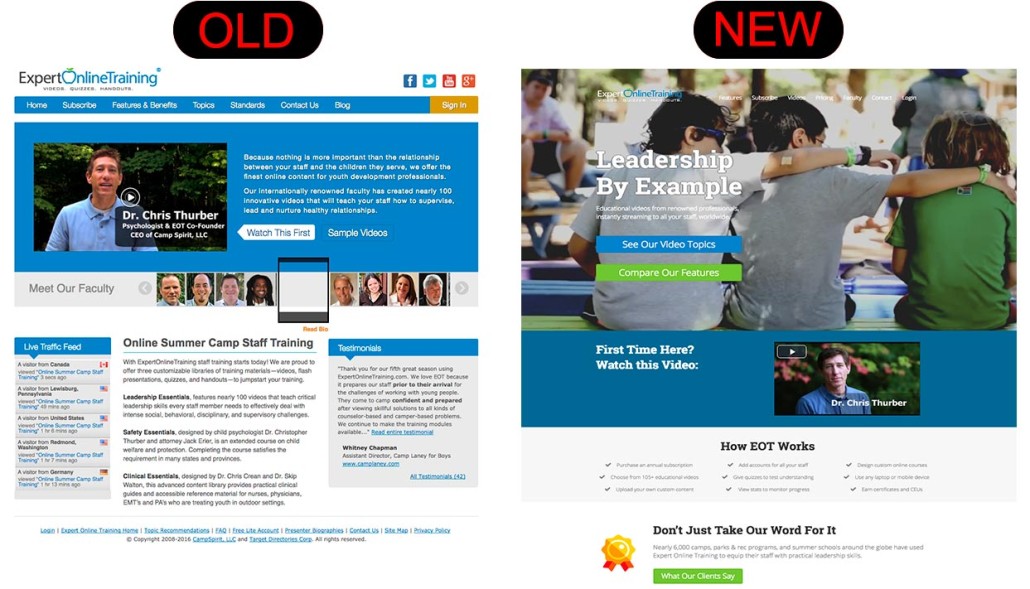 Designing a website to support such a high quality product is a really fun process and working collaboratively with Evan and his team made for a rich end product that we feel helped modernize their web presence while keeping the main focus on the high quality content that they create for their clients.
While creating the content and graphic design style choices seemed to come easy in this great collaboration we did have our work cut out for us when merging our new design with their already existing system and website that has been developed by his great team of Developers. Through communication and lots of trial and error we managed to get the website launched and working great.
We focused a lot on imagery since they offer such great quality video instruction we wanted to make their clients feel immersed in the camp and outdoorsy feel while keeping their focus on what they want to know and how we can help them out.
Expert Online Training has definitely been one of our most hands-on clients and our team enjoyed playing the role of the design team for this responsive design and build. We benefited greatly in our flexibility as an agency having our team available for screen sharing meetings to discuss designs and working live with the client to make edits to the development and live sites.
We got the website up and running and have fully handed off updates, design and maintenance to the great development team at Target Directories Corp who manage the website and content and Dr Chris Thurber at Camp Spirit who is the man behind many of the great videos and high quality content at Expert Online Training.