The Four Marketing Quadrants of Tourism Marketing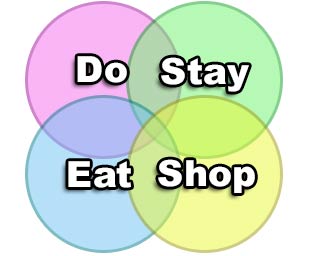 Understanding the Four Quadrants of Tourism Marketing is key for maximizing marketing exposure of your website and social content. In my last post, Understanding the Search Buying Cycle for Travel and Tourism Marketing, I revealed the process of how people search online. Now, you're ready to add this knowledge into your tourism website and structure your content like the big boys do. I call this process "The Four Quadrants of Tourism Marketing". By understanding this concept, your tourism website and online marketing will reach larger target audiences.
The trend on large tourism based websites is to answer what they think the reader's top questions are: Things to Do, Where to Stay, Where to Eat and Where to Shop. Why do you think this is? It's due to the fact that within tourism marketing these are the categorizable areas of interest that tourists and travellers (aka: target markets) are looking for. I know marketers like to travel as well, so think about it for a second, planning a trip usually begins around something you want to do or see (Things to Do).
Next, you're going to look for your preferred type of place to stay (Where to Stay). Then, you might browse some nice places to eat and shop while visiting (Where to Eat & Where to Shop). Has your tourism website answered your readers' questions in the The Four Quadrants of Tourism Marketing?

 Here are a few examples of how Ontario Destination Marketing Organizations (DMO's) have used the Four Quadrants within their websites' structure.

"See & Do, Eat & Drink, Stay, Plan/Events"
---

"Things to Do, Things to See/Events, Where to Stay, Dining"
---

---
"Play, Eat, Sleep, Events/Experience/Packages"
---

Even BC Tourism is structured similarly!
Places to Go, Things to Do, Transportation & Maps, Accommodations
---
There are no right or wrong four words to use. Everyone wants to be somewhat unique and reach their target market and represent their own branding in the best way. Culture and geographic region may have an influence on what four words you choose to represent the four quadrants. 

You can improve your tourism website reach and effectiveness and, in return, the business products and services, by pivoting on the 4 Quadrants of Tourism Marketing:
Things to Do
Where to Stay
Where to Eat
Where to Shop.
If you haven't provided easy answers to these Four Quadrants, you might do a great job of enticing people to visit based on things to do, but you could lose them if you haven't shown them places to stay. Therefore, a real benefit to writing content and creating pages in your website about top local tourism assets is that the potential tourist might find your content. Some great local tourism assets may have a horrible website that doesn't rank very well, based on Search Engine Optimization (SEO). So, your website page might come up in the top three Google listings before.
Here are some examples of how any business (operators) that profit from tourism dollars can use this knowledge to gain more exposure:
cottage rental company could write blog posts on hiking trails and links to maps
restaurant could link to their favourite stores or places to shop
local store could write about events in the area
museum could feature top bed and breakfasts close by
It's a simple formula for success. The Four Quadrants of Marketing can be used by DMO's, chambers, small and large businesses and any organization that depends on tourism as an economic driver for either a local, national or international audience.  If you have any questions about this blog post or require Ontario Tourism WordPress Web Design feel free to contact me and and I'll see what I can do to help.  If you liked this post, please share it on your social network of choice.