Understanding the Search Buying Cycle for Travel and Tourism Marketing
The average internet searcher (Google, Yahoo or, Bing) tends to search about a dozen websites before they make a purchase or commit to a travel or tourism experience. This is relevant information to my clients to understand how potential customers make decisions online. This is tourism marketing 101, if you're serious about reaching a  broader target audience this is the first concept you need to wrap your head around.
Search-Buying Cycle for Travel and Tourism Marketing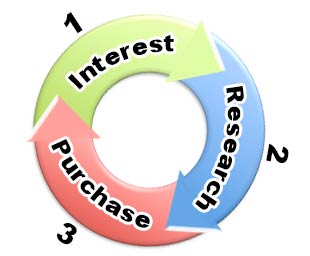 The Search-Buying Cycle is based on three phases that a person goes through as they search on the internet for what their heart desires. They lead to a commitment that can be in the form of an action, such as contacting the business (email or phone), or purchasing a business's products or services.
Here's an example of how the three phases play out:
Interest Phase
It all begins with the desire or want of a person (hopefully your future customer) for what you have to offer, yet don't know your business exists.  Through this desire the person will take action on the internet with their intention of searching for a winter weekend vacation getaway within a 3hr drive of Toronto. They're not sure exactly sure what type of accommodation they want to stay in yet but feel something on the water would be nice. They'd also like to snowshoe and take some photos of some great tourism attractions. Their interest is piqued and they have narrowed down their vacation goal. This sets the stage for them to start phase two of researching on Google through their computer or cellphone.

Research Phase
This is the phase where the real work begins. The searcher takes their initial idea of what they want to do on their vacation and begins researching on the internet – Googling terms like "snowshoeing." They are rewarded with a massive list of snowshoeing results located in the Kitchener and Waterloo area.  There's also Wikipedia articles, news articles and many how-to articles on snowshoeing. The searcher may be overwhelmed with so many results and realizes they need to be more specific. Now, their search is refined by including their accommodation preference – "cottage rental and snowshoeing." But the searcher is presented  with a bunch of websites all located in the USA.Google still needs more details to narrow the search so the searcher adds a location-based term in the 3hr driving distance from Toronto. They're not too familiar with Ontario so they use the Google Maps website to start looking for a city or town that is next to water and within a 3hr drive from Toronto. They discover Lake Huron and Georgian Bay and think they'd both be great to explore. Their refined and successful Google search now includes a geographic location term, an accommodation preference type and an activity type – "Lake Huron cottage rentals with snowshoeing."
To their delight, they learn about Bruce County that is surrounded by Lake Huron and Georgian Bay. After reading a few websites that feature Bruce County towns and the Bruce Peninsula, they see a separate listing of cottages to rent. One site featuring Port Elgin lakeshore cottages lacks clear descriptions of what a winter experience would be like at their cottages and limited contact and location information. The searcher moves on.  The next website piques their interest with photos of snowshoe trail systems near Port Elgin and mentions a provincial park. The provincial park close to Port Elgin is has lots of descriptions, rates, photos. Now, the searcher is close to reaching their goal. They do a final search using the name of the provincial park to see if there are any winterized cottages available, and cross their fingers.
Purchase
This final phase is where the searcher is confident they've found the products or services they're looking for and take action. After Googling, narrowing the search, visiting over dozen websites, they feel they've found an accommodation fit for their winter vacation. They are feeling confident and excited that they've decided on where they're heading and what they're going to see and do when they get there. They found out there wasn't any cottages at the provincial park, however, a winterized Yurt at MacGregor Point Provincial Park would be truly unique. It has everything they want to do in the outdoors plus excellent scenery on Lake Huron and close proximity to the town of Port Elgin where they can go out for dinner.
Understanding HOW people are searching for tourism and travel products and services is only the first step. How can we use this powerful knowledge to increase our chances of getting in front of them with our content? We need to apply this knowledge to our websites, social media networks and internet marketing using specific tactics. In my next blog post, "The Four Quadrants of Tourism Marketing", I'll share how you can better structure your internet marketing to be found by searchers using the concepts of – things to do – where to stay – where to shop and where to eat. The Search-Buying Cycle for Travel and Tourism Marketing is a foundational understanding to better structure your internet marketing initiatives to reach wider target markets during the discovery and dreaming phase.
Please subscribe to my blog and get notified of my next post where I reveal a personal tourism marketing strategy concept that will not only increase your tourism's businesses internet exposure but also support local economy.  If you have any questions about this blog post or require Ontario Tourism WordPress Web Design feel free to contact me and and I'll see what I can do to help. If you liked this post, please share it on your social network of choice.